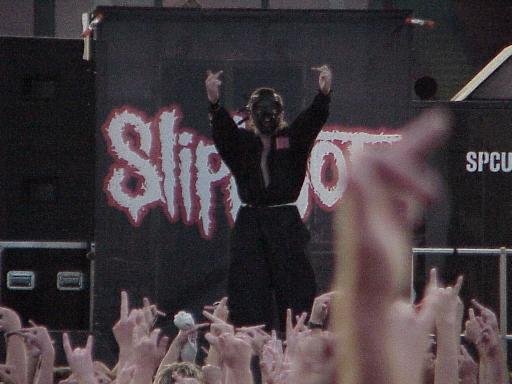 ...Welcome to my little SlipknoT corner. As you can see it's not a full blown fan site just a couple of pages where you can find some information about the 9 headed monster with some photos from the Iowa period and various other photos, notably of Joey's incredible drum solos... So enjoy the page and if you've got any problems with the pages, keep them to yourself!
A personalized biography...
1991 the spore called Slipknot exploded. In 2001, the infestation continued. Hailing from the 'middle of nowhere'- Des Moines, Iowa - they are nine men in nine different masks united with one common goal: world domination. Fortified with an arsenal of blistering music saturated with throat-ripping howls, drums, searing riffs, sampling, scratches and melodies, Slipknot's music runs the scale from eerily thought- provoking to utterly terrifying. Now, with their self-titled debut album gone platinum, the first in Roadrunner Records history. The band is set to release their second effort, IOWA, which has been called by "one of the most anticipated albums of 2001".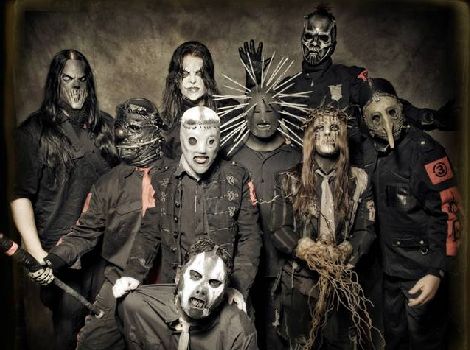 Slipknot are collectively, DJ Sid Wilson, drummer Joey Jordison, bassist Paul Gray (1972- 2010 RIP), percussionist Chris Fehn, guitarist James Root, sampler Craig Jones (a.k.a. 133), percussionist Shawn (the Clown) Crahan, guitarist Mick Thomson and lead singer Corey Taylor, the band members are more commonly known as, and in order: 0;1;2;3;4;5;6;7;8. The band went through various line-up changes but always dominated the local scene before catching the eye of Roadrunner Records. Once Slipknot was unleashed on the world, they were "the most talked-about band" (Rolling Stone) of that 1999's Ozzfest. Their first self-titled release scored a #1 debut on BILLBOARD's Heatseekers chart from the word-of-mouth hysteria that their live show generated. A year and a half later, they had toured the world and invaded the realm of Rock and Alternative radio, making Top 30 lists for the year 2000 at various stations across the nation.
Slipknot has been called "the best live band in ten years" (Lou Brutus, Hard Drive), but if you've never seen it, you wouldn't believe it. Millions of people can attest to that throughout the world. A murderous, rampaging free-for-all that threatens to engulf the entire venue, Slipknot is a sonic assault on all five senses that makes you wish you had a sixth. Voted "Best International Live Act" by Kerrang! Magazine, there is no stopping the madness spread by their masterful art of live performance. With IOWA primed for detonation, a killer slot on 2001's Ozzfest and tours like Pledge of Allegiance, Slipknot is ready to climb back into the world's arena and quietly rip everyone's eyes out... so here's waiting for June 23 at the "Parc de Prince" stadium in Paris!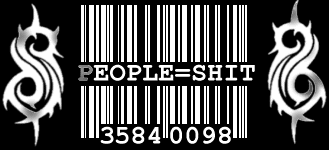 Concerts and Things
2001 & 2002 The start of it all for me. I had seen Slipknot on a French TV show and was blown by their set. The fact that they were reduced to just a couple of songs just reinforced the power of it so when they came and played at the "Zenith"- Paris, France I jumped at the chance. Yep! 2001 was an anthology concert, not only because there was Mudvayne and Static-X but because their set, while not as developed as later on just rocked with what are now Anthems. The rest of 2002 saw the band busy with "Disasterpieces"
2003 was a relatively quiet year for the maggots.
2004 arrived with the promise of Duality, due out in May, and already, early in the year, copies of songs, namely, Duality, were on the web.
A concert in Paris in June 2004 was also announced but surprise, surprise, Slipknot were billed as opening before... Metallica. Dammit, we all thought, They've sold their souls to the big Money machine. Well, perhaps The Lost Prophets would act as a go-between. Even though Shawn & Corey are pals of Lars and the others it did seem a shame but "Wot the fuck! Slipknot in a 40 thousand filled football stadium would be something really amazing ...and rare in Europe. So rendezvous the 23 June at the "Parc de Prince" stadium in Paris.
October 2004 - Parc de Prince, Paris. Slipknot had played at Paris-Bercy with SLAYER, earlier in the year for a concert that was, according to reliable sources, was a killer!shit! It was supposed to be 10 times better than their concert with Metallica... Metallica? I ask you! Teaming with the "555" personified, oh well!
They then came back for a concert at Paris - Parc de Prince with Metallica as Top of the bill. Good job there was "Lost Prophets". Honestly, Metallica fans remind me of Jehovah Witnesses or Born Again Christians or whatever. Talk about sit back and enjoy the concert! they were half a sleep, not a Pogo to be seen! No, I don't like Metallica but maybe that's because they don't fill a genre for me like Led Zep' do (yeah that's how old I am).
June 2005 - Halle Tony Garnier, Lyon That was better! Slipknot in Lyon! Amazing. Apart from the fact that Shawn stayed at home, the concert was great with, apparently, a better sound than Paris-Bercy. Chris and Sid did their show and Mick stomped around like some stomping Uruk-Hai and Corey doing all the classics, apart from splitting the hall in 2, and his with his French "...ah fuck!... Cette song s'appelle..."
The hall was not really jammed packed, only 5000, with tons of kids and I mean kids not teenagers, running between yer legs they were that small and the pogos...G man* towered over the kids and whereas before, say in 2001, he got battered I think this time he was the one battering.
( * G man = my son)

Epilogue
Actually the concert was a sort of a transition, allowing people who had never been to see Slipknot before but more importantly opening the way for a new generation of maggots, complete with baggies, vans (no! not rangers!) and oh yes ...weed! and no I don't feel out of it not even at my great age because you just go along and do what you want to do and if you want to get mixed up in the kids pogos why not but better to let them get on with it and just shove them out of the way if they bump into you and like I'm not all that small a 50 Kilogram bouncing off me is quite funny...They sort of run into you. Stop in their tracks, fall over, shake their heads in awe, get up and run off... no I'm only having a laugh but it's not far off from that and its all good fun and I must admit that at 6 foot and 110 Kilos me hurling " You can't kill me 'cause I'm already inside you..." is enough to make most run away, especially the little girls all in a tizzy and screaming "Joey, Joey!!!"...
... One thing is sure. If I can make it for another of their concerts I'll be there...cos it's all in the mind.
NB. To my French friends with who I shared a lot of Slipknot concerts with between 2000 and 2005 and made sure the 9 headed monster made it to the top of the pile:
"TSK est fini", exclama l'auteur, mais il avait raison, le Niko. C'etait la fin d'un époque et il fallait passer la main!! Carry on les 9... Shaun ton DVD 2007 kicked ass. Niko (sic TSK) ton site etait, comment dire, la "Libé" du genre mon site, que voici, date de 2000 et vaut ce qu'il vaut mais on s'en fout'. Cette une façon d'exprimer ce que jai partag&eacute avec vous: Les concerts; l'ambience, le delire... Corey disait que il avait du 4 a 44. Mouias! il avait aussi des +40...des anciens quoi, là pour "éduquer" la releve...Chaos rules, Disaster rules... Slipknot continues!"

The"S" Link:
http://www.slipknot1.com/
Some other links:
TSK IV:
http://www.sknot.com
Iowa-behind:
http://www.iowa-behind.fr.st/
Roadrunner: http://www.roadrunnerrecords.com/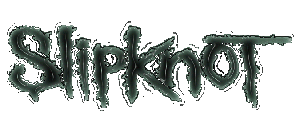 ©N.Richards - 09/2005 - updated 2012